October 25, 2011 | or, blogging and why i like it.

Nikon FE, Kodak 400

Nikon FE, Fuji Provia 100
Sometimes I think I forget about why I do things.
I think I forgot about why I liked to blog in the first place. My first blog was born because my best friend gave me the link to her secret one, and although she was a much better writer than me, I wanted to tell stories, too. I got my LiveJournal because someone I liked had one, too. It resulted in Nothing Special, but I moved on to making bonds with people over the Internet, which was, at the time, kind of a creepy, shady thing to do. We talked about obsessions, and real life, and asked no one in particular why the world was so unfair. We grew up and moved on, but LiveJournal has always been a safe place for me.
I got Nothing Spaces because of envy, mostly. I read a lot of personal blogs that were ".coms" and I admired the honesty and candidness of those journals and diaries. Back then, people didn't really Google people, and no one really plugged their blogs. They just poured their hearts and souls and pictures in these repositories, and people from all over the world somehow connected with them.
Mary Oliver wrote the "instructions for living a life:" Pay attention. Be astonished. Tell about it.
Sometimes, I'd like to think that that is why I do what I do. It's not something I earn from (although a lot of people who get in touch with me for work find me through here), and it's not something I use to share what I do (although I have been wanting to do so for a while). It's just here, because I am "living a life."
I like taking photos, I like writing, and I like telling people about things that I find. I like telling stories on blogs, because truthfully, it's the best way I know how to. I'm not very articulate, nor am I particularly good at adding flourish to my story-telling. A lot of people kind of hate on blogs, and I understand why. It doesn't mean I agree, but I get it.
When I see blogs today, I realize it's very different from what I grew up with. It feels kind of like how old people don't really "get" the learning curve of computers. All of a sudden, there is an influx of blogs that were monetized and sponsored, and I couldn't wrap my head around how it all worked.
I was obsessed with figuring it out for a little while, and it was a huge blow to the ego when my stats began to dwindle. And it got sad when I realized that what began to motivate me to post were my stats. So I stopped caring.
And now we are here.
I don't think I can recreate the earnestness and honesty that gave birth to so many funny, endearing blogs that I used to spend hours reading in high school. I don't think that writing here even improves the quality of my writing.
But I'm paying attention, and I'm being astonished, and I'm here to tell about it.
August 30, 2011 |
I just recently discovered that I actually have some followers on Bloglovin'. I don't really know what that is, but I think it just basically alerts people who follow me there if I have a new post. I am "claiming" this blog now, with my Bloglovin' account. It turns out, I signed up for the service over a year ago, but I just never configured the settings.
So, if you want, you can follow me there.
However, I have also set up an RSS feed, which you can subscribe to via this link. I use Google Reader myself, but I know there's a lot of other feed readers all over the world. I just found out I hit 200 feed readers, so thank you, whoever you guys are.
I know not a lot of people really use RSS feeds, and I made this page a long time ago to sort of explain what it does. In the simplest terms, it just makes it easy for you to know when your favorite blogs (your subscriptions!) have updated. Kind of like an LJ friends page or a Tumblr Dashboard for pretty much the entire Internet.
Anyway, thank you, whoever you are, for reading what I write. I know it's been a confusing two years over here, but I'm still glad you've been with me.
July 25, 2011 | In which we try to spread joy all over the Internet.
A few months ago, Kwen messaged me to tell me that Frankie, one of my favorite magazines, is available through a local shop called Fika Fika Fika.
I immediately ordered Issue #41, May-June 2011, and the process was quick and painless. The delivery was also very prompt. I was surprised to see that in addition to the issue I ordered, as well as some other goodies (paper products, writing tools, etc), she also enclosed a back issue! I already had this issue (and I'm trying not to be a big packrat anymore), so I asked Fika Fika Fika if I could just give it away to a Nothing Spaces reader, and she said yes!
Anyway, up for grabs is Frankie #39, Jan-Feb 2011.
Since the issue is about feeling like you belong somewhere, all you've got to do is comment with your name and where/when you feel like you most belong.
A few notes and rules:
The contest is open to all. However, you must be willing to pick it up from a gallery along West Avenue, Quezon City or pay for shipping. (Normally, I would pay for it, but I am trying to save!)
You can only comment once.
Winner will be picked randomly.
Winner must reply to the email alert within 24 hours of receiving it, otherwise I will pick another winner.
You can comment until 11:59 PM on July 31, 2011 (+8:00 GMT).
Pop by Fika Fika Fika! The shop's got a lot of interesting things for sale, as well as back issues of Frankie. Unfortunately, Issue #42 is sold out. However, I can vouch for every issue of Frankie they still have stocks of.
Okay, that's it! If you have any other questions, please leave a comment below, and I'll try to get right back to you.
Happy commenting!
May 24, 2011 |
Dear Reader,
If you are still around, it would (maybe) interest you to know that Nothing Spaces turned two a few days ago! I've been experiencing server errors for the past month and a half, so I've held off posting, but I am pretty sure that I've fixed the problem (concerned the IP address my FTP account was pointing to), so I'll be posting pretty regularly here again.
I have a bunch of posts up my sleeve right now, I just have to get around to writing them. Some will probably be exciting! Others, not so much. In any case, I just wanted to say that NS turned two (!) and that I am not dead. A list of things I have been up to:
Bangkok! I went with Karen, Therese, Roxy & Sarie. We stayed there a whopping 8 days, and had a great time eating and just exploring the city. Here is a photo post, in case you missed it. I would very much love to go back.
Bohol! I went with my family to Bohol, one of the Philippines' biggest tourist destinations. I have never been, and although our stay was quite short, I had a really great time with my folks.
Farm Visit part 2. Went to Herbana Farms again this weekend, where we had a great frakking lunch (no joke). I brought home rosemary and lavender plants for my mom.
And so on! It's funny, but I think I have been out of the house more times in the year I've been out of college, than during all four years that I was in it. I think I've been opening up a bit more. One of the best things I've learned on my Bangkok trip is that shyness is a crutch. More on that soon.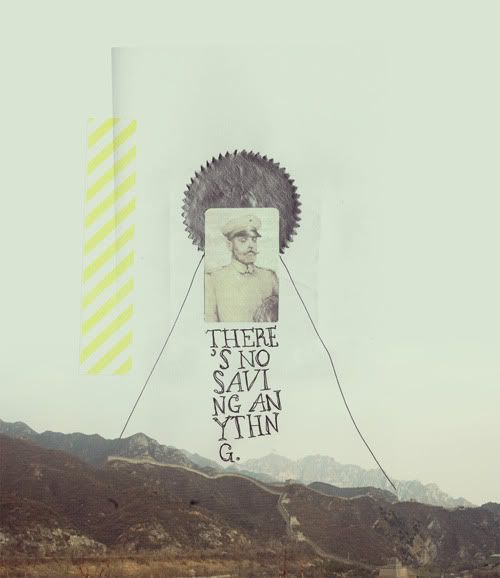 A big personal victory for me was contributing to Rogue for the month of May. I held off posting about it, because I didn't have my physical copy yet, and then things got in the way. But here, I am announcing it now. This is one of the pieces that I made for the issue. Here is another one:
I hope you guys get a copy, because—and I don't mean this as a pat on my own back—it's such a great issue, touching on a wide variety of topics and it has a lot of great art by Dan Matutina.
In the meantime, I'm working on some posts (I have a lot in mind and they are a jumbled mess in my head!), and a give-away for Nothing Spaces' second birthday. For everyone who stuck by weird server shenanigans, thank you! My traffic went way down, but I got a lot of messages telling me my blog was down and that they missed it.
Just so you know, I missed you guys, too.
Love,
Carina
April 5, 2011 |
Not a lot of people know this, but I used to be a massive Candy girl. Candy magazine was the first magazine I subscribed to, and I would just amass the copies and read through everything obsessively. I would read it from cover to cover, pick out the clothes I liked (LOL) and was pretty active on their message board. Funny story: I unknowingly gushed about Haley Joel Osment on it with my best friend, Isa, who totally knew it was me. (I didn't know it was her.) I think our friendship might have been written in the stars?
I've since grown out of Candy. Mostly because my interests have morphed into other things, and I guess I also just grew up. But I do still check their website from time to time and occasionally write for them. (Incidentally, all these web features are about Harry Potter.)
This is a late post, since all the new issues are out on the stands right now, but I suppose it's still worth mentioning. I got a small feature on the March cover for this blog (I realize that's kind of weird and self-referential to post about it, but well—)! The April issue has BBV on it, but if you still wanna read the tiny blurb on Nothing Spaces, try looking for the March issue with Taylor Swift on it:
It was kind of strange (in a pleasant way!) to be leafing through the issue again, because I couldn't really relate all that much anymore, but a tiny part of me was feeling a familiar kind of comfort. And, you know, I actually was able to learn a few new things because of really practical tips. Who knew! It's also kind of funny when I read about boy-related things and thinking about how I used to be so into these things.
Candy was such a big part of my life. I always wanted to have something I sent in posted on Anything Goes! I think I might have been part of it once, and it thrilled me so much. It was such a big deal when my friends' letters would get published, and when I won a contest~ for e-mailing in a blurb about my life hero, it felt like such a high high. I would read the embarrassing stories with my sister and we'd vote on the worst ones. I would also always attempt to do the Candy wink… to no success. I'm pretty glad digital cameras were a rarity back then.
The variety of people who alerted me to the news was pretty funny and surprising. I knew I was going to be featured (the editor of Candymag.com, Macy, asked me for a photo), but I didn't expect these strange variety of people to be the ones to tell me about it. People I knew from high school, college, church, and the Internet told me, and I guess I was surprised that Candy was still a part of the lives of so many people I knew.
I think that no matter what happens, I can't ever deny my Candy roots. I've changed a lot since my obsessive Candy-reading days, and I'll probably change again, but I think that Candy will always have a tiny pocket in my heart.
January 26, 2011 |
In my last post, I talked about cleaning my room. Well, it's not very neat… but it's better. I just need to figure out a system. Thankfully, I have cleared most of the junk that was piled high up in front of my bookshelves. (There used to be a cart with a lot of crap on it, and now it is gone, and all I can see is the floor and my books, and everything was beautiful and nothing hurt.)
My bookshelves are mostly done! I just need to reorganize, and maybe rethink some of my literary choices. Of course, I am torn, because as much as I would like to throw out embarrassing novels and such, I remember having an enormous stack of The Secret Life of Alex Mack and Full House (!!!) novelizations and giving them away. And the truth is, I kind of want them back… for no real reason other than I am a pack-rat who delights in nostalgia.
Ahem.
Here are some pictures, but there is not a lot, because while I think books are cool, I don't know if people will be able to stand reading about another person's half-assed attempt at organizing them. Maybe when I'm done with the entire room?
So, for those not in the know, I share a room with my sister! So, yes, we have sort of a halfsies arrangement. Sort of like a Twin Popsie. This is what half of my half looks like:

For the curious: clicking on the image will take you to the Flickr page,
which I have liberally supplied with notes as to which shelves have what kind of books.

Random fiction, the iPod and iHome I inherited from my dad, and P.T. Flea.

One thing I am proud of is that I have enough poetry books to fill an entire shelf cube thing!
I bought a lot of poetry books last year. I don't can't analyze them properly, but I do enjoy reading.

Top shelf! It's narrower, so that is where I have relegated the stumpy books.
A lot are still wrapped in plastic because I am stricken with the disease of buying faster than I can read.
Anyway, more from me soon, I promise. I have a slew of posts that I have been working on (in my head, but still!) and I'm really excited about them. This was just the easiest to put together and type up, so this is what you are getting! I am just really out of sorts and out of time right now. I need to calm down, but I can't seem to figure out how.
Also, I think it's almost time for a new layout? What do you think?
I like
making things
and writing. Sometimes,
I read
. When I grow up, I want to make books.
ELSEWHERE:
Maybe Very Happy
Pelikula
Recovery
Log in