June 25, 2011 |
I have been faltering colossally, on the book front this year. Reading, not buying. (I seem to have no problems with the latter…) I was reading pretty rapidly in 2010, so I felt bold enough to challenge myself to read 75 books this year, as opposed to the usual goal of 50/52. I suppose it's pretty clear that I overshot and now, I am in big trouble. As of right this very moment, I have read sixteen books, some of which are poetry collections and graphic novels.
Even though I've been obviously failing at quantities, I'd like to think that, on the upside, I've been exploring different genres and types of books. A smart alec once told me that I should read books other than Jewish fiction, which I admittedly tend to gravitate towards. I would say that I do so unwittingly—I had no idea that Aleksandar Hemon's "The Lazarus Project," for one, was such. Anyway, lately, I have been exploring new genres like poetry and non-fiction. So, anonymous smart alec—be proud. I did this for you. (Not really.)
I think I've also had very different reading experiences. Out of the sixteen I finished reading, five were borrowed, and I rarely ever finish borrowed books. One was an ebook sent by Aldrin, the third ever I've finished reading. I also realized that I can't really read books in increments, or I will lose interest. I need to be immersed in something for a long time, or else days will go by before I pick it up again. I may have also lost my ability to multi-read! Currently in the middle of about ten books. I am ashamed of myself also.
For the next few days, I'm going to be writing about books again, I hope. I think maybe when I stopped writing about them, it also affected the way I read, and the way I processed what I read. In any case—I've been taking down notes, so I hope not much will have been lost with time.
I'm going to start with my January reads: Nine Stories by J.D. Salinger andRichard Yates by Tao Lin. I also read Adam David's The El Bimbo Variations (which you can download as a free PDF over here), but I might write about that another day. I guess I've been feeling really stupid and useless when it comes to books. Some of my February books, I already wrote about here (Jack Gilbert's Refusing Heaven and Shane Jones' Light Boxes). Oh! People, you would be pleased (?) to know that I have not read any YA this year… Although I imagine I would have to now. /withdrawals
Under the cut, "reviews" of Nine Stories by JD Salinger and Richard Yates by Tao Lin. And for the curious: a rough list of my 2011 reads, complete and in progress.
Continue reading 2011 & BOOKS (SO FAR)….
June 20, 2011 |

Illustration by Kris Atomic.
I've been told that my default face is actually a bitchface. I've spent most of my formative years being told by good friends that they didn't think I would be as nice as I was because I "looked scary." Imagine what wonders that did to my self-esteem. Imagine how many potential friends I might have lost because of my face!
To illustrate, here is the most recent picture of my default face. It is by no means attractive (I mean, clearly), but it shows my point fairly well: my point being that I tend to look pretty menacing, even without meaning to. I did you a favor and resized it to a fraction of its original size.
Does it help that I am also not really naturally friendly? Nope. Does it help that I am also kind of socially awkward? Nope. Do I try to be more genial? Oh, do I ever. At some point, I even practiced my smile in the mirror. How lame is that? Very. Although, I do get complimented on said smile, so I suppose the cost of lame-ness yielded favorable results anyway. I don't know if it is a good smile in itself, or if it just a welcome change, much like a breath of fresh air after being underwater for some time. Who even knows anymore.
Stranger or friend, please take note of this: if you run into me on some random street or at some event, and I look like this—please don't think that I will eat you. I can assure you that I won't. And I am posting this just because I related to this illustration. I do feel like birds are tying my bows, but I apologize in advance if ever I look like I am about to kick a tiny puppy.
That's really just how my face looks.
However: if you tell me to cheer up, even if I have a song in my heart, and visions of sugarplums dancing in my head, I just might find a puppy I can kick.
Just kidding.
June 19, 2011 |
Enter your password to view comments. Filed under
family
|
June 12, 2011 |
To my beautiful sister,
It's still your birthday in other parts of the world! So, I would argue that this isn't a late birthday greeting. Currently, you are in the other room, watching all of the T.V. episodes while you were away on your trip to Germany and Austria. You were gone a whole of seven weeks, and I think that the entire household was in a bit of a quiet mess, as evidenced by the frequency of our FaceTime buggery, and constant Wall Posts of variations of "Why aren't you online?"
In that time, I saw from a distance how much you were growing up to be your own beautiful person. I saw how much patience you had been cultivating inside of you, how you dealt with difficult people and with difficult situations. Stuck in a foreign land! I felt like a little baby, with my wussy problems, battling with the Manila heat, while you were bundled up in a padded jacket all the way out in Europe.
Sometimes, you talked to me when you were feeling a little sad. I was happy for the interaction, but I was sad for your sadness, and frustrated at my inability to make things better from where I was. As the weeks wore on, you seemed to be getting on pretty well. You were busy and having fun, and thank goodness—adjusting!—but thank you for tagging me in photographs you thought I would like.
I always thought that, between the two of us, you were the more thoughtful one. (Don't think I forgot all about your birthday: your present is in transit as I type this.)
Though you are often difficult to be around (heh), I really missed you while you were gone. It's not an aching, incapacitating sort of missing; rather, a knowing of something just not being there. There were so many things I wanted to have shared with you but couldn't, so many stories that I would have told you had you been here. I'd taken to sleeping on your side of the bed, but you already knew that.
There are so many things that I could say to you, I've known you all twenty-one years of your life. I have yet to learn so many different parts of you, but what I want to do right now is thank you for understanding me, as a person and as a sister, and for loving me despite our constant butting of heads and ideas and opinions, and our arguing, and our constant misunderstandings. I'd like to think that we get along better than we used to, and I'm so grateful for that. You've always been one of my favorite people, and even though you don't say it back as often as I say it: I LOVE YOU.
I pray for nothing but the best for you. You are such a wonderful person, and I've always admired how weird and random your personality is. Thank you for making me laugh, and for cheering me up when I'm sad. Thank you for knowing when to leave me alone, and when you need to hug me back. Thank you for letting me be your strange older sister who is, in many ways, less wise than you. Thank you for teaching me the value of not compromising who I am because of what others thought, and for at least pretending to take my advice into consideration.
I hope you know that I am always here for you. God loves you, and I hope you know that he is always watching out for you; especially, for all the times that I can't. You were always one to look after yourself (Remember that time, when you were really little, and mama and papa hid from you at the mall? How, instead of crying, you put your hands on your hips and surveyed the surrounding area, just knowing that something was up?) but look to him when you feel like you can't take it. He'll see you through.
I hope you remember to be brave.
I love you, always.
Love,
Ina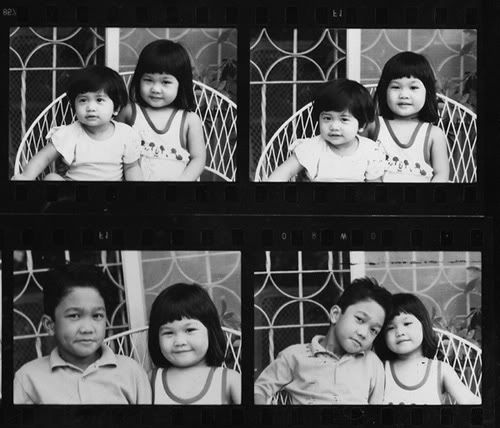 June 11, 2011 |
I was going to fix my room, but then I… just found new things to do with my photographs now. I was trying to figure out what to do with my prints, since my (re-)foray into film photography. Our new negative scanner (which, by the way, is a Canon 9000 or something and costs around Php 10,900, according to my dad) made it hurt less to try film because I didn't have to print a bunch of rolls with duds, and just have the nice ones printed if I feel like it.
Anyway! So, I found a way. My room is still a mess, but I guess I'll just deal with it tomorrow. Apologies to my sister, who has to share this pig sty with me.
P.S. Karen said that the second one (in the series of three) resembles a penis. I would like to apologize and say that it is supposed to be a mountain. Hopefully, you got that and did not think phallic thoughts. It's a mountain!
June 10, 2011 |
When news broke out that poachers destroyed a reef five times the size of Manila, I was devastated. It's so sad to me that the Philippines is blessed with so much biodiversity, and we wreck and ruin, instead of nurturing and cultivating what we have. I am mad that people thought they could do such a thing, and a little frustrated because I can't really do much to stop them.
When I was younger, I didn't really consider myself a "sea person" up until the last few years, when spending time near the water really gave me peace of mind and quieted my soul. My best friend, Isa, wrote about how one cannot help but falling in love with the ocean. I love being in the water. After I get over the initial panic of being in a body of water with creatures can't sea swimming beside me, I embrace the feeling of somehow being one with the earth.
I missed Blog Action Day, which calls people to band together and make noise on June 8th, on behalf of the Philippine seas. But, just because I am lazy and forgetful, it doesn't mean that I don't care. It's a little bit sad for me, knowing that at the moment, this is the most that I can do: declare how much I love the sea. I plead to the people who have more power than me to move and do something about this.
Here are some photos from Bohol. I am not very good friends with the ocean yet, and Sarie is urging me to give diving a try. I'm hoping there are still places left for me to see. (Tubbataha and Coron, I've got my eye on you.)
Continue reading MARRIED TO THE SEA….
I like
making things
and writing. Sometimes,
I read
. When I grow up, I want to make books.
ELSEWHERE:
Maybe Very Happy
Pelikula
Recovery
Log in